Marriage arranged!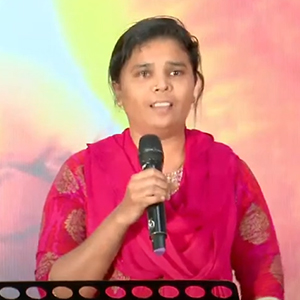 Praise the lord, I am Nithya, from ChennaiI, regularly attend the "Anbarin Paathathil Oru Naal" fasting meeting. My marriage was not feasible due to family circumstances. But after taking part in the "Anbarin Paathathil Oru Naal" fasting meetings, there was a ray of hope in my heart that God would do a miracle even for me. In the same way, God enabled me to get married. Despite financial constraints in both our house and the grooms house, God miraculously enabled us to have a decent wedding. Moreover, God prospered my family life by granting me a salary raise and a promotion. I thank God for this glorious miracle. May His name be glorified. Hallelujah!
  Gift of Child!
Praise the Lord, I am Jacquelin, from Chennai. I was unable to conceive a child even after three years of marriage. I made a pledge and prayed that if God blessed me with a baby, I would testify at the "Anbarin Paathathil Oru Naal." Under such circumstances one day I was watching God's Love Ministries TV program. During prayer time, Brother prophesied that, "Your eyes shall see your pregnancy." I had faith in this word from the Lord. When I went to the doctor for a check-up, they confirmed my pregnancy. I thank God for this glorious miracle. May His name be praised. Hallelujah!
Healing granted!
Praise The Lord, I'm Sindhu from Chennai. My child was suffering from seizures since birth. The doctors told us that our baby will not survive. At this stage I watched "Surely there is an end, and your hope will be in vain" program on Youtube. During prayer time, I joined with Brother T Stephen and prayed for my infant. To our utter amazement, our child started moving its hands and legs. Now my baby is hale and hearty. I thank God for this glorious miracle. May His name be exalted. Hallelujah!
My children's wedding!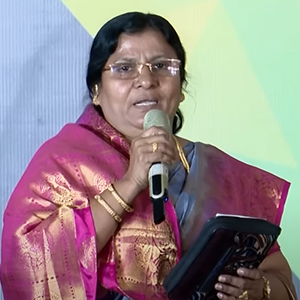 Praise the Lord, I am Julie from Tambaram, Chennai. I have 2 sons who are Engineers. My elder son's wedding was continuously being hindered despite many proposals. So, I went to the Chennai prayer tower for prayer. There a prayer warrior during prayer gave this prophecy, "Currently you and your children are living in darkness but from today you will see light!" To utter amazement within 2 weeks of this prayer both my sons were married to God appointed suitable life partners and the weddings was held in a grand manner. I thank God for hearing the prayers undertaken on our behalf at the Chennai Prayer Tower and blessing us with double miracles. Hallelujah!
Blessed with a child!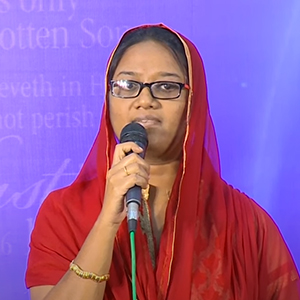 Praise the Lord, I am Sajeetha from Thiruverkaadu, Chennai. My sister and I were yet to conceive a child despite being married for 5 years. Under such circumstances we attended the "Anbarin Paathathil Orunaal" fasting meeting and prayed with Brother T Stephen. During prayer Brother prophetically said, In a short span of time God will do a miracle for both of you and gave "He grants the barren woman a home, Like a joyful mother of children."(Psalm 113:9) as a Mangala Vaarthai. Glory to God! Within a few months God blessed the womb of my elder sister just as He had promised. After another few months, I was blessed with a girl child. I thank God for hearing Brother T Stephen's prayers and blessing both of us with the gift of child.