July 16, 2018
God healed my husband's leg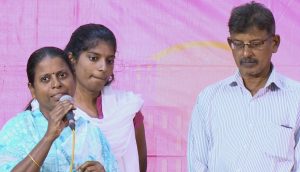 Praise the Lord. My name is Mala. I come from Choolai. My husband got an infection on his Left leg (below the knee to the ankle). We did not know how that happened. We spent nearly one and a half lakhs for the operation but nothing happened. It got worse day-by-day. We brought him home after the operation. A month later, he developed breathing problem. He was admitted in the hospital again. We spent a lot of money for various tests and scans; eventually we got into a lot of debts and did not have any earnings.
Even in this difficult situation, God led us. I cried to God and asked, "why am I having such a tough situation". At that time, I received a call from the God's Love Ministries Prayer Tower saying that I got an appointment to meet Brother Stephen. I was overwhelmed with joy because I knew that except God, no one else can cure my husband. When we went to meet brother, he examined my husband's leg to know what had happened. I told Brother that my husband is an agent. He said "Someone has done witchcraft against your husband and that's the reason why he is not recovering in spite of all the treatment ". After sharing our problems, Brother prayed for us. He assured us that the skin on my husband's leg that is soggy and wounded now will be healed completely. Brother also gave us a bottle of prayed oil which I applied on my husband's leg every night. From that day till now, he has not had any pain and all his wounds have been healed. God blessed my husband with peaceful sleep and the wound was healed.
I thank and praise God for this marvelous miracle that He has done for my husband. I also thank Bro. Stephen for all his prayers.
Amen.