God blessed me with a Job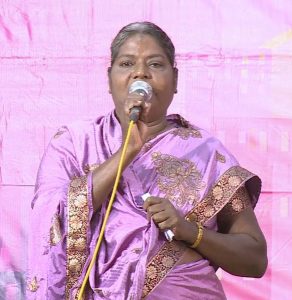 Praise the Lord. It has been nearly eight years since my husband passed away. He was working at BSNL. I did not get the job of my husband after he passed away. I used to go to the office almost every day hoping that they would give me that job. In June 2016, the moment I entered the meeting Anbarin Pathathil Oru Naal, I heard Brother say, all those who did not get a job will get a job. All those who did not get an appointment order, will get it. In the same month on the 8th of June I got my appointment order. I thank Brother for the promising word he gave at the meeting.
Likewise, last month I had pain on my left hand. For nearly three months, I couldn't lift my hand. I had severe pain. Brother Stephen prayed for me. Now I am able to lift my hand without pain. I thank God for healing me. I also thank Brother Stephen for praying for me.
God will perform a miracle in His time.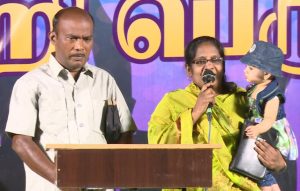 May the name of the Lord be glorified. After marriage, we did not have the gift of a child for nearly 27 years. Three years back, we attended a meeting that was held at Kachanavilai, where the servant of God, Brother Stephen ministered. As Brother prayed for me, he said that God would do a miracle in my life, in such a manner that everyone would be surprised and be happy about it.
Brother said, "The heart of the people will be enlightened". And when the doctors tested me, they said everything was normal. To my surprise, God gave the fruit of my womb. Today all the people who see me are amazed; and they go around telling the miracle about Jesus. It was the grace of God that made this happen after many years of shame.
A thousand tongues are not enough to praise Him. When I was alone I used to cry saying, "Lord I am like a parched and dry tree and how long should I live to hear this kind of hurting words. Whenever people inquired of me, about a child, my heart ached". I used to feel ashamed of my situation and would not be able to eat in peace. My God, soon wiped away my tears. He changed my mockery. May the name of the Lord be honored. We thank God for this amazing blessing and also thank Brother Stephen and his family for their prayers.
God protected my family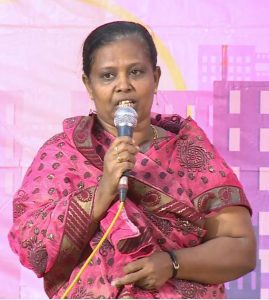 Praise the Lord. I come from Rajyapalayam. While I was watching Brother Stephen's program on Sathiyam T.V at 11:30 p.m, he said, 'God will save you from every form of evil'. At that time, I prayed for the safety of my family. While I was praying at home, an incident took place at my husband's work place.
My husband is a conductor. That night, he was at the Trichy bus stand. He had finished his duty and was taking a short nap. He kept his bag of money (Rs.1 lakh), a 3 pound chain, a debit card, ATM card, debit card and other belongings with him and slept off. All of a sudden, a man had stolen the bag of money and was getting away with it. My husband felt like someone was waking him up. When he woke up, he found the bag was missing and saw the man running with the bag. At once, my husband ran after him and got the bag. All glory to God for being with my husband.
Similarly, my son lost his mobile phone at his college. He insisted that I pray along with uncle during the meeting so that he will be able to get his phone. God answered even that prayer and we got back the lost mobile phone. I praise and thank God for His protection upon our family. I also thank Brother Stephen for his prayers.
Amen.
Blessed with a Job
Praise be to the name of the Lord. My husband resigned his job in the month of April 2018. After which he went through great depression. We took him to the hospital and treated him. He started to recover little-by-little. The doctor told that he could go back for work. He tried for jobs in many places but he did not get a job anywhere. He attended about 10 – 15 interviews in a month. He faced a lot of obstacles. The company would tell that they would call, but he did not receive any call. We have two children. For 10 months we have had a tough time as my husband did not have a job. I came here for the meeting ANBARIN PAATHATHIL ORU NAAL and got prayed. I prayed to the Lord saying, "Lord! many people are testifying. You must perform a miracle for me such that I will testify in the next month." In the same week, my husband received a call from a company. He was asked to join the job. My husband is now employed. I thank the Lord for bringing him out of depression.
I thank and praise the Lord for this miracle. I also thank Brother Stephen for praying for my husband.
Healed
Praise be to the name of the Lord. My husband met with an accident in the year 2014. He used to keep complaining that he had stomach pain. He used to get a severe pain at about 1 or 2 am. I took him to the hospital all alone. I had only the help of the Lord. I always listened to the message of Uncle on the Salvation T.V. I wanted to attend this meeting so that my husband would be healed. I have been attending this meeting ANBARIN PAATHATHIL ORU NAAL from the year 2018. Until now, without any medication, the Lord healed his stomach pain. Glory to the name of the Lord.
I thank the Lord for this divine healing. I also thank Brother Stephen for praying for this powerful meeting.
Amen.