God restored our happiness
Praise the Lord.  My son and daughter-in-law have been married for seven years and have been struggling ever since. The problem between them got worse and went to the level of getting divorced. The only hope I had was prayer. When I attended the meeting (Anbarin Paathathil Oru Naal) last month, Sister Josephine (Brother Stephen's wife) sang a song that says "The King who breaks the barrier is going before us."  I had great faith and prayed with much burden. Today, by the grace of God, my son and daughter-in-law are united and are leading happy life. All glory to God.
We have also been struggling with a debt of Rs.2 Lakhs. In two years the Lord enabled us to pay back the debts in portions and we are very happy. I praise God for helping us pay back this debt and uniting my family. I thank Brother Stephen for his prayers.
Amen.
God sanctioned the loan I needed
Praise the Lord. My name is Sharada. I am a contractor. I was to take up a mega project and had got the necessary permission; but did not take any further step towards the construction. I was slightly hesitant whether I would be to complete such a mega project or not.
A few days later, I watched Brother Stephen's program on Sathiyam TV, where Brother said, "Our God is a counselor and that we must not take any decision on our own but we need to pray and do the will of God." The next morning I prayed and asked the Lord to reveal His plan for me. I told the Lord, "If I get the loan I will do the construction".  The following week, Brother prophesied saying, "Our God is a God of all riches. You need not go in search of anyone. God will send to you all that you need". I believed this word and held onto this word.
I got an appointment to meet Brother. The time I went to meet Brother, I got a call saying thatmy loan was sanctioned. As I had an appointment with Brother at that time, I told them that, meeting Brother was more important that getting the loan. After meeting Brother, the one who was to give me the loan came and met me. We did not know each other. I felt like as if God had sent an angel to sanction the loan even without me asking for it. Within a week all the formalities were done and I got the loan for the construction. By the grace of God, I have started the construction process. I thank and praise God for this blessing. I also thank Brother Stephen for praying for me.
God healed me from Dengue Fever
Praise the Lord. I was suffering from Dengue Fever. I was admitted in the hospital. On the second day, my liver enlarged and I had severe pain.  I was given drips. I was neither able to eat nor drink anything. I vomitted continuously. I was in the hospital for a week.  I was diagnosed with Pulmonary Effusion (Collection of water in the lungs). We rang up to the God's Love Prayer Tower and requested them to pray for me. The following day, I underwent a surgery. During the surgery, God performed a miracle. The doctors were amazed as they found that my lungs contained only one millilitre of water content instead of one litre. God healed me completely. I praise God a thousand times. After I got discharged, I went to meet Brother. I told him that I needed to go to the doctor during the weekend and that there should not be any bad report. Brother said, "God has healed you completely. God has given you strength, you need not worry." I went for the check up.  The doctor said, "You have no problem.  You are absolutely healed". I thank God for healing me completely.  I also thank Brother Stephen for his prayers.
God blessed my husband with a job
Praise the Lord. My name is Deborah. I come from Guduvancherry. My husband had no job for nearly two years. Mean while he had to undergo a surgery in his heart. We got into debts due to surgery. Our house too was in debts and was about to go for auction. Brother Stephen said in his message that "One who breaks open the barrier is going before you". We returned home with great faith. As a family, we held on to the words that Brother spoke and we prayed. Within a week, my husband secured a job. We somehow managed to pay back our debts. Just as Brother said, we were able to save money and God has blessed the effort of our hands. I praise the Lord and thank Brother for His encouraging word and prayer.
God blessed me with a Medical seat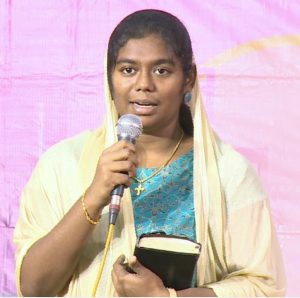 Praise the Lord. My name is Agnes. Last year I completed my 12th std. From my childhood, I had great passion to do medicine. All the members of my family also desired that I should do medicine. I wrote the NEET Exam. Before writing my Exam, I asked Brother Stephen to pray for me.  Brother said, "You will get what you lost".  I couldn't understand what he meant by saying that. I wrote the Exam. The result said that I was not qualified.  I was told that I will get seat only if I qualify in the NEET Exam. I took a break last year and wrote the exam this year. I did well. I did a self analysis and found that I would not get the required marks needed to get qualified. I started to look out for other colleges. My father told me to wait till the results were out. He reminded me of what Brother said. I prayed and asked the Lord, "I do not want first mark but I need grace mark. I need just an extra mark to get qualified. I should magnify Your glorious name". Just as I prayed I got one grace mark. As the mark obtained was less than expected, I was told to wait until counseling and they also told that we may have to pay heavy donation. Jesus was there with us. I was called by a good college. I got the medical seat that I longed for without any donation. I paid only the college fees. This was possible only by the grace of God. I thank Brother for praying for me. I praise God for giving me this medical seat.